SYL Boek | SYL Buch | Book of SYL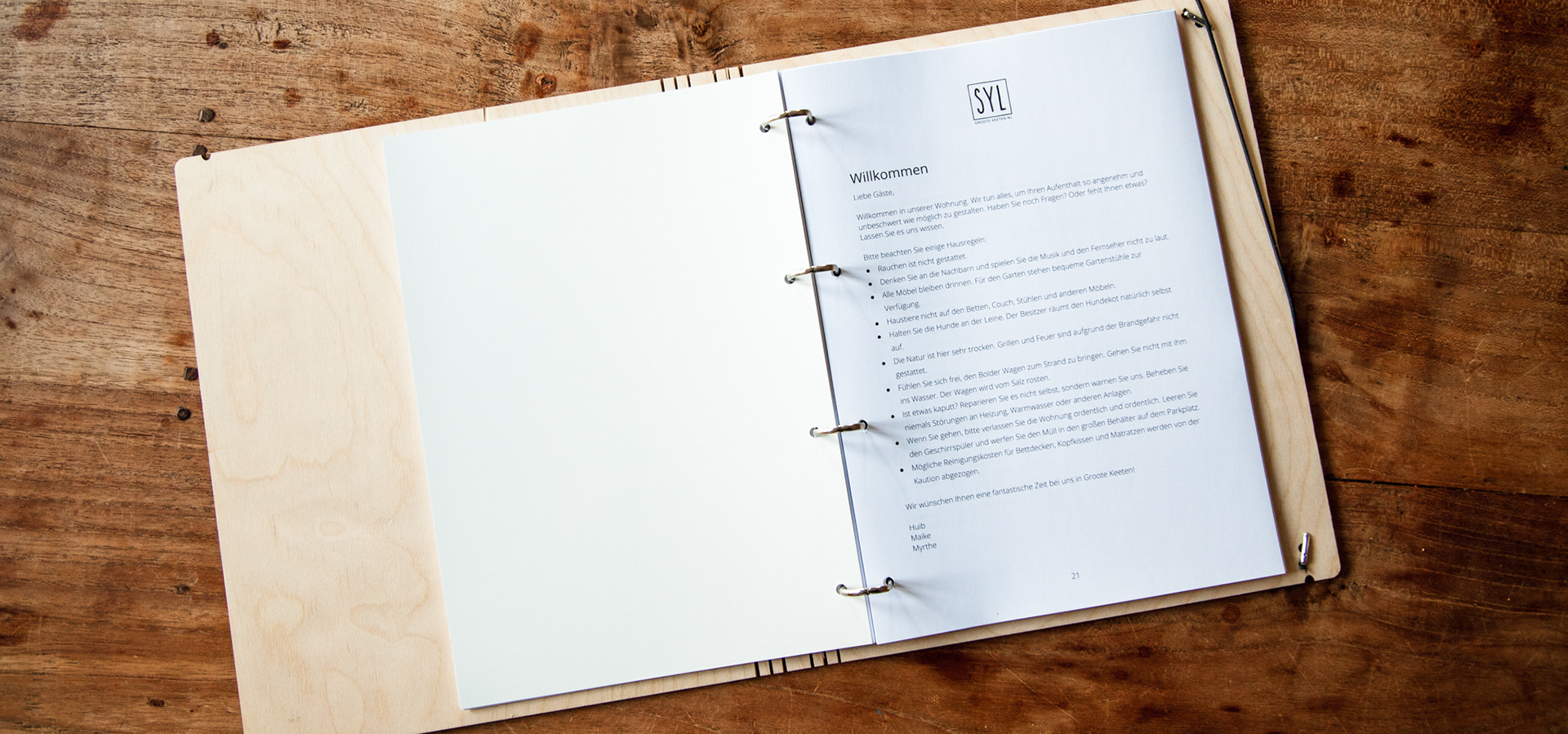 Download het SYL Boek met alle informatie. Een geprinte versie ligt voor je klaar in het appartement.
Laden Sie unsere Broschüre mit allen benötigten Informationen herunter. In der Wohnung steht Ihnen eine gedruckte Version zur Verfügung.
Download the Book of SYL with all the info you'll need. A printed version is ready for you in the apartment.
​​​​​​​
Inchecken op de dag van aankomst vanaf 15:00, uitchecken op de dag van vertrek voor 10:00. Je wordt in het appartement verwelkomd door een van ons.
An- und Abreise


Check-in am Anreisetag ab 15.00 Uhr, Check-out am Abreisetag vor 10.00 Uhr. Sie werden von einem von uns persönlich in der Wohnung begrüßt.
Arrival and departure


Check in on the day of arrival from 3:00 PM, check out on the day of departure before 10:00 AM. You will be personally welcomed in the apartment by one of us.
Route | Anreise | Getting there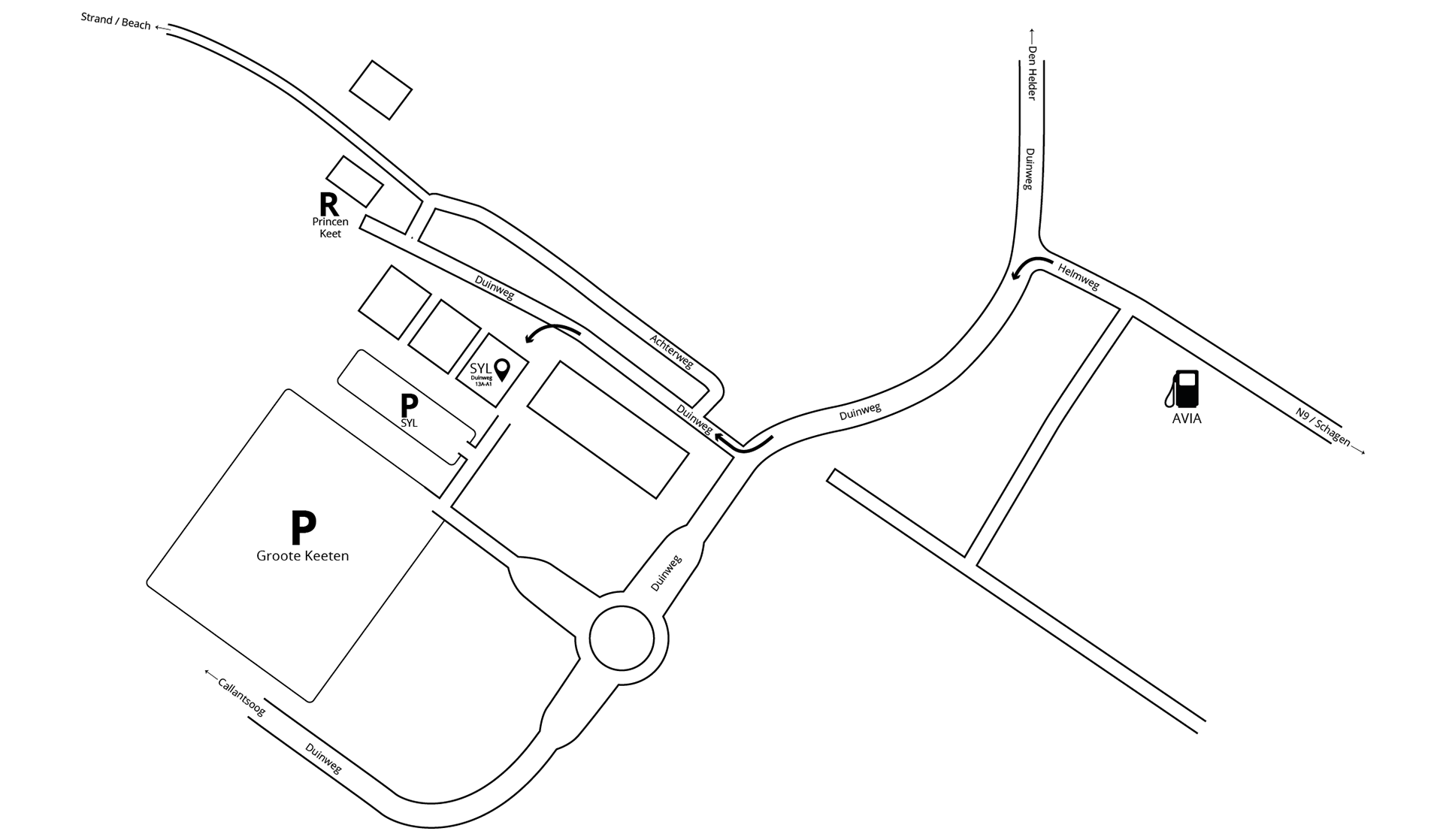 Het officiële adres van SYL is Duinweg 13A-A1, 1759 NW Callantsoog. Gebruik dit adres voor je navigatiesysteem.
Volg vanaf Alkmaar de N9 richting Den Helder. Ongeveer 22 km boven Alkmaar neem je de afslag 'Groote Keeten'. Volg de borden naar 'Groote Keeten'. 
In het dorp passeer je restaurant Brekers en een Avia benzinestation. Vervolgens kom je op een T-splitsing. Ga linksaf op de splitsing en daarna rechtsaf de Duinweg op. 
Aan het einde van de weg zie je aan je linkerhand drie appartementengebouwen. SYL vind je in het linker gebouw met huisnummer 13A. SYL is appartement A1, op de begane grond links. Je kunt je auto kort voor de deur parkeren om in te checken.
Die offizielle Adresse von SYL lautet Duinweg 13A-A1, 1759 NW Callantsoog. Verwenden Sie diese Adresse für Ihren Navi.
Von Alkmaar aus folgen Sie der N9 in Richtung Den Helder. Etwa 22 km nördlich von Alkmaar nehmen Sie die Ausfahrt 'Groote Keeten'. Folgen Sie den Verkehrsschildern nach 'Groote Keeten'.
Im Dorf fahren Sie am Restaurant Brekers und einer Avia-Tankstelle vorbei. Dann kommen Sie zu einer T-Kreuzung. Biegen Sie an der Kreuzung links ab und dann rechts auf den Duinweg.
Am Ende der Straße sehen Sie links drei Wohnhäuser. Sie finden SYL im linken Gebäude mit der Hausnummer 13A. SYL ist Wohnung A1, im Erdgeschoss auf der linken Seite. Sie können Ihr Auto vor der Tür parken, um einzuchecken.
The official address of SYL is Duinweg 13A-A1, 1759 NW Callantsoog. Use this address for your navigation.
From Alkmaar follow the N9 in the direction of Den Helder. About 22 km above Alkmaar you take the 'Groote Keeten' exit. Follow the signs to 'Groote Keeten'.
In the village you pass restaurant Brekers and an Avia gas station. Next, you come to a T-junction. Turn left here and then turn right onto the Duinweg.
At the end of the road you will see three apartment buildings on your left. You will find SYL in the left building with house number 13A. SYL is apartment A1 (on the ground floor on the left). You can park your car in front of the building to check in.
Parkeren | Parken | Parking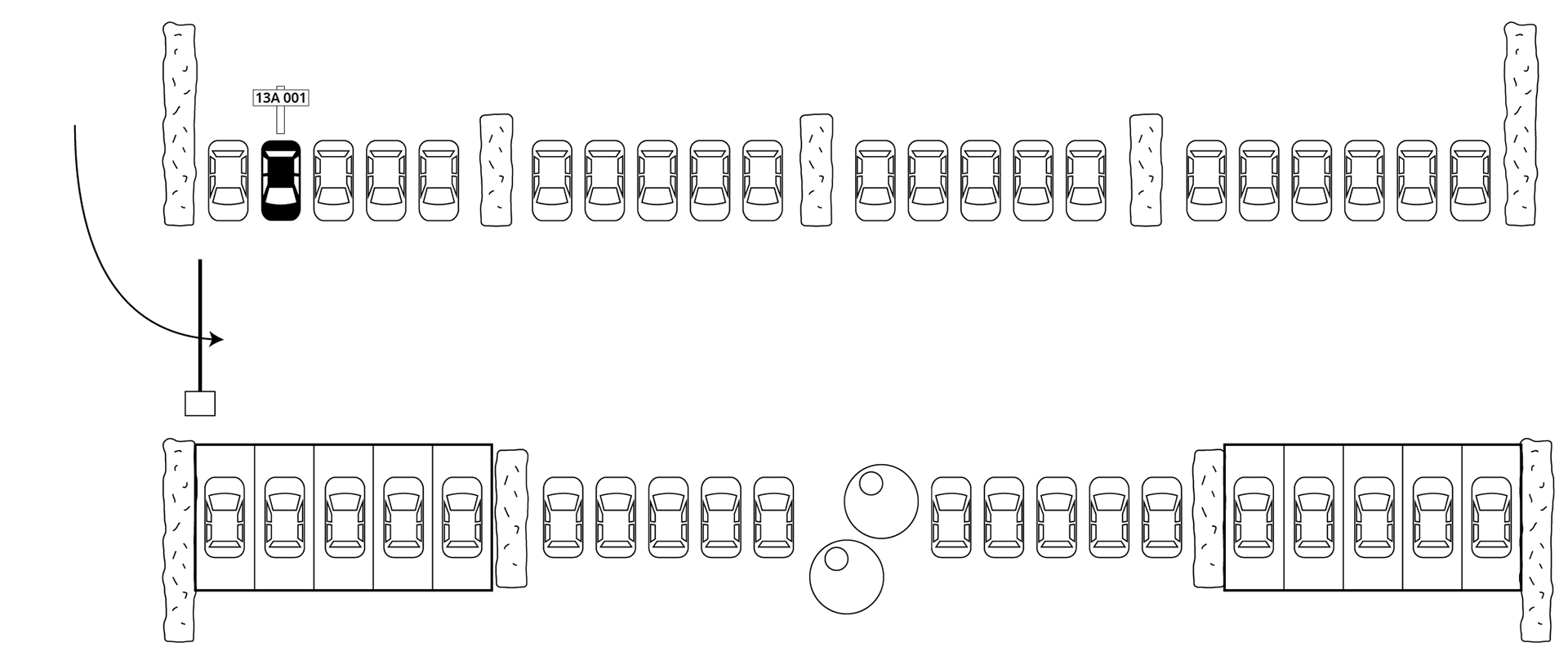 Bij het inchecken krijg je de afstandsbediening voor de slagboom van de parkeerplaats. Rijd terug naar de doorgaande weg. Sla rechtsaf en neem op de rotonde de eerste afslag. Je ziet de parkeerplaats met slagboom aan je rechterhand. Open de slagboom met de afstandsbediening en parkeer je auto op de parkeerplaats met '13A 001'.
Beim Einchecken erhalten Sie die Fernbedienung für die Schranke. Fahren Sie zurück zur Hauptstraße. Biegen Sie rechts ab und nehmen Sie am Kreisverkehr die erste Ausfahrt. Sie sehen den Parkplatz mit Schranke auf der rechten Seite. Öffnen Sie die Schranke mit der Fernbedienung und parken Sie Ihr Auto beim Parkplatz '13A 001'.
At check in you will receive the remote control for the parking barrier. Drive back to the main road. Turn right and take the first exit at the roundabout. You will see the parking lot with barrier on your right. Open the barrier with the remote control and park your car on the spot with '13A 001'.